Liljeholmskajen – Årstadal
Client
JM AB
Project group
Jonas Berglund, Marc De Decker, Helena Emrani, Laura Gioanetti.
Year
2001-ongoing
Location
Årstadal, Stockholm
Published
Danska Landskab, Tidskriften Arkitektur
Photo
Anders Karlen, where not otherwise stated
Slideshow
Se bilder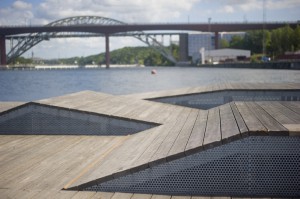 At the edge of the Årstaviken bay, the new development area of Liljeholmskajen-Årstadal marks the expansion of the traditional limits of Stockholm's inner city. Nivå's work, which has followed the phases of development overclose to two decades, has encompassed both design and project management tasks. The design of the main public space; the waterfront, draws upon the industrial heritage of the site and is characterized by a surface treatment of cast-in-place concrete and large-scale street furniture in Corten steel. The two jetties provide visitors and residents with a sunny space from which to appropriate the water's edge. Connections also needed to be made to surrounding areas. Given this, the design incorporates a bike lift, which eases access for cyclists and pedestrians arriving via a bridge, and a spiral stair which links the urban waterfront with elevated nature and play areas on nearby Sjövikshöjden. The final phase of the project will see a progression of terraced play spaces weave together the pine forest of Årstaskogen, the waterfront, and the local street network. The artists Hans Peterson and Mats Olofgörs have participated in the program phase and in the design of benches and poles.