Norrtälje hamn
Invited competition
In collaboration with DinellJohansson Architects.
Client
Norrtälje kommun
Project group
Göran Lindberg, Stina Hellqvist, Åsa Drougge
Year
2015
Location
Norrtälje hamn, Norrtälje
Slideshow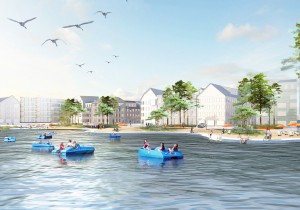 Proposal – On track
This proposal aims to give the city of Norrtälje a new, site-specific identity and to strengthen the physical connections between the city and its harbor. The design takes strategic cues from the materiality, landscape character, and atmospheric qualities of the archipelago. These references have been used to fundamentally shape the public spaces of Norrtälje harbor. The proposal aspires to reconnect Norrtälje with its history, by emphasizing the rail line, harborside activities, as well as the city's role as a seafaring, bathing, and resort destination. Mobile furniture is attached to tracks that transect the quay, providing for a flexible use of the space. The proposed urban spaces are designed to support urban vitality all year round, and to support the residents of Norrtälje, summer guests, and tourists alike.