Vasaplan
Artistic exploration
Client
Umeå municipality and Public Art Agency Sweden, in cooperation with National Board of Housing, Building and Planning, Swedish National heritage Board and ArkDes
Project group
Åsa Drougge, Göran Lindberg, Stina Hellqvist. In cooperation with artist Beatrice Hansson
Year
2014
Location
Centrala staden, Umeå
Published
Group exhibition; Aiming for Democratic Architecture, Swedish Institute and Architects Sweden. Shown at: Center for Architecture och Van Alen Institute, New York 2017, Stockholms design week 2018, Swedish institute Paris 2019, and more Exhibition; Väntans torg, Västerås konstmuseum 2019
Photo
Anders Karlen
Slideshow
Se bilder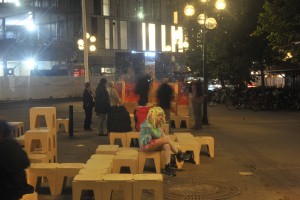 The project is an artistic examination of Vasaplan in Umeå, a university town in the north of Sweden. Vasaplan is primarily a communication site, with buses coming, waiting and leaving. The people are also waiting-the place is characterized by anticipation and movement. There is a pulse at Vasaplan, a constant movement that repeats itself during the hours of the years and days. During five days in September 2014, we positioned 400 stools at Vasaplan and welcomed the public to use them. Acting in the public realm and offering people to be co-creators, opened for dialogue and participation.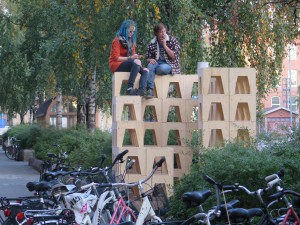 A widerange of events with the stools took place on the site; some planned and staged by us, and other spontaneously developed along with the citizens' desire to chance the site according to their needs. Unexpected events spurred interest, surprise, and curiosity. Our goal was to understand how the site is used and how events and physical additions can change the way people perceive the space. The objective was also to investigate how citizens can contribute to the development of cities, in ways different to the regular planning process. Drawings of the various placements of the stools were collected. The material was compiled, categorized and organized in a sketch book, a tool to possibly be used in further work on the physical changes of Vasaplan.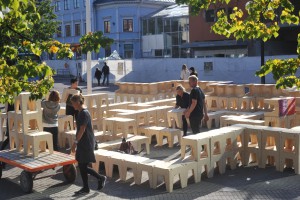 The last day we gave away the stools to people passing as a memory; a symbol of a public event given a newmeaning in the home; a bedside table to put a book on, a stool for the cat to lie on, a stool to stand on to reachthe top shelf, a stool to sit on the doorstep, a stool to be in the kitchen..